National Volunteering Week may have ended but it is always a good time to meet our qualified Coaching and Run Leader team who give up a large amount of their time to keep MKLR going
Fun, enthusiastic and experienced. Our team is there to help and encourage through the good times and the challenges
Head Coach, Norman Baker
Hi I'm Norman and I'm the head coach for MKLR.
I have been running with the club for about 10 years and have been a leader for 9 years.
For me I love running with the club because of all the friendly members and seeing people improve in their running abilities.
My most memorable moment is completing The Wall, a 70 mile ultra from Carlisle to Newcastle. Completing in 17 hours and 52 minutes.
I have also, during my running time, completed many half marathons, Foxy's Quadzilla, and a 50 mile ultra.
I love seeing members of the club getting out there and achieving their goals. As a leader I thoroughly enjoyed pacing someone for a sub 2:15 half marathon which they managed to achieve.
Run Leader, Becky Woodgate
Hi I'm Becky Woodgate, I've been running with MKLR since 2014 having completed the beginners course.
I have been a leader with the club for about 6 years. It's always a great sense of achievement for me as a leader seeing the beginners graduate on their 5k run and seeing everyone's posts about their running achievements.
I love turning up to a club session knowing that there will always be friendly faces to greet me and to run with, even those faster runners are happy to plod along and have a chat along the way.
If it wasn't for MKLR I would not have completed many half marathons or my first marathon – the training sessions and everyone's support really did help me achieve what I set out to do.
Run Leader, Helen Rojczyk
Hey I'm Helen Rojczyk I joined MKLR in 2014 due to a loss, and this club pulled me through
I've been a member since 2014 and became a leader in 2017 after having a baby in 2015 I decided I needed to get my fitness back and this club was the one for me!
What I love about running with MKLR…. I have made so many friends over the years and I love seeing people achieve their personal goals.
Best thing about being a run leader….definitely it is helping and seeing people achieve their goals and just improving.
I started off in beginner group myself and improved for 0 to half marathon.
Still to this day my favourite is The Great North Run absolutely unforgettable experience one I will never forget.
Run Leader, Committee Member, David Lewis
Hi all – David, Run Leader and committee member
I've been a member since around 2011, I ran a few half marathons before joining and then got signed up for a marathon by my sister and panicked! I knew I needed help!
My favourite things about running are race bibs with 69, Tart photos and post run socials!
I love running in general although that has had ebbs and flows over the years. Being with MKLR is tied up in everything I've done and achieved over the years. It's where I've made friends and been inspired by other people. My biggest achievement varies on when you ask me. But I always come back to my first London Marathon – run in a club place, and something I'd wanted to do since I was a kid.
Run leading is a great way to share the fun with others. I get to blow a whistle too sometimes! Hopefully it helps other runners improve and takes away the thought process of where to run, what to do, and when to recover. Anyone can be a run leader – it's a great way to help out the club and fellow runners.
Run Leader, Rachel Toresen-Owuor
Hi all, I'm Rachel! I've been a member at MKLR since early 2013 when I was struggling to train for my first marathon on my own. Best decision! I made friends during those training sessions, support in the run up and also on the day having not been a member for very long by the time the MK marathon happened.
Since then the club helped me train for many 10k and half marathons, and the pinnacle of it all the London Marathon in 2015.
I have stayed a member even when I couldn't run much after having a baby, to keep in touch with running friends for motivation. Managed to find some kind of mojo again in lockdowns from the online support and comraderie in this group. It's always been a comfort to know that the club is here and there are runs to join for when I can get out and about.
To that end, the decision to become a leader was an easy one. Its been great to give back to the club and be part of the team that make sure the club is there for us all when we need it. I really enjoy planning sessions and running with people and most recently challenging myself to step up and join Mark to lead some 10k on a Tuesday.
And here is a pic of my actual face and not a pair of converse.
Run Leader, Mark Atkinson
Hi I'm Mark (aka the duck whisperer). I've been a member since 2012ish. The best thing about being a run leader is seeing people achieve more than they thought they could.
My own greatest achievement is running 100km a week for over a year during lockdown.
What I love about MKLR is the friendliness and camaraderie of the club… and the ducks.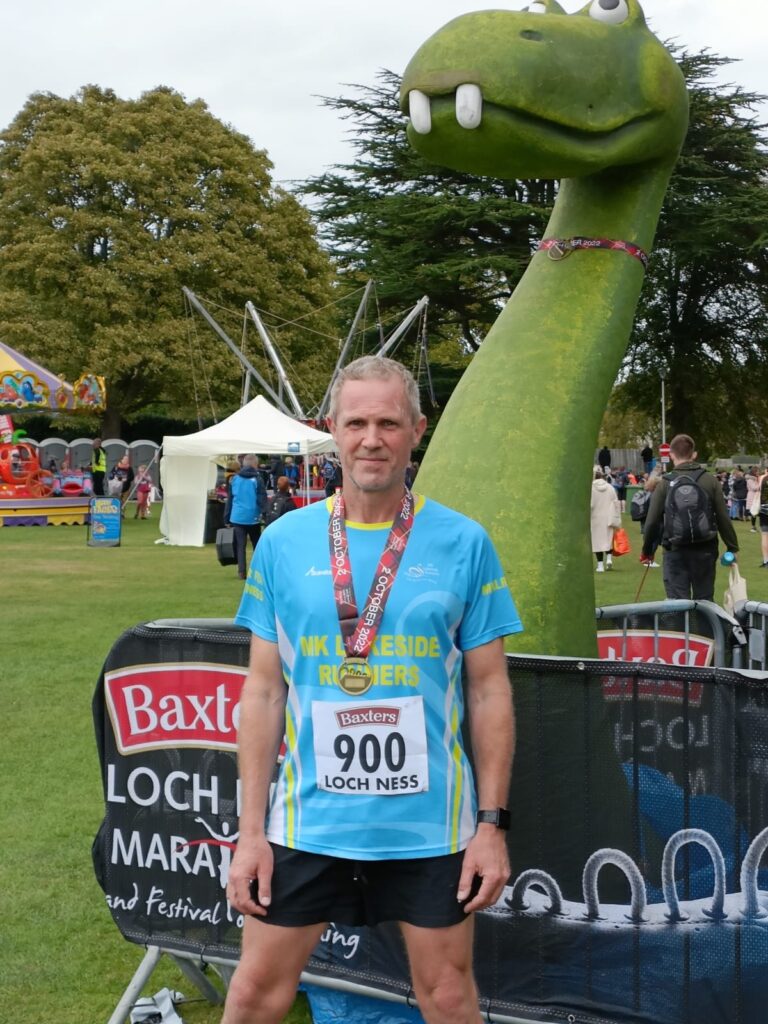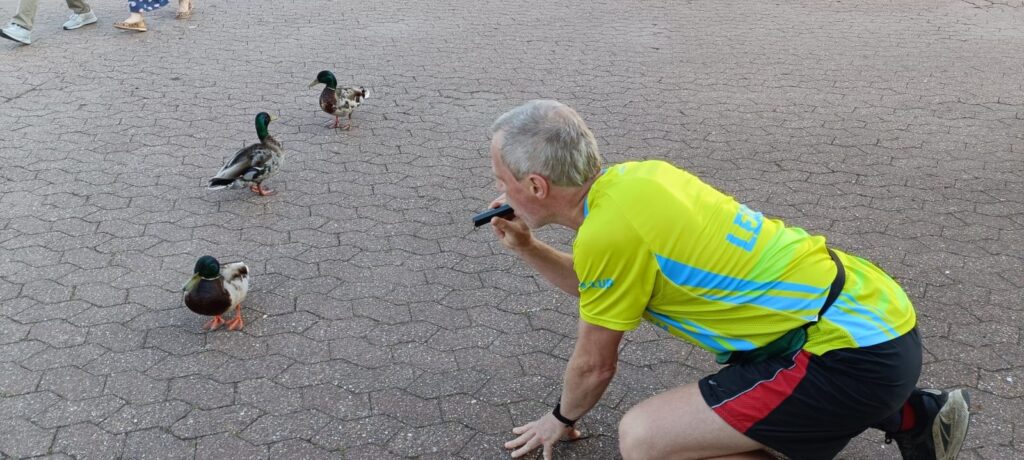 Run Leader, Committee Member and Club Treasurer, Simon Stimpson
Hi I'm Simon, runner, run leader, committee member and club treasurer.
I've been a Member since January 2013.
I joined to do something other than just cycling and having not run basically since I was at school as a total novice I took part in and completed the beginners' group.
The thing I love most is that we are a small, friendly club where virtually everybody knows everybody.
We also have a very wide range of running abilities within our club and I feel that every runner is given equal amounts of respect and encouragement to try to help them to achieve what they want to achieve.
No one is ever left behind and no one minds how far they have to run back at times.
There is a togetherness amongst all the members that in my opinion really stands out.
Many of my best friends are, and in some cases were, club members.
Most of you already know that my running journey took an unfortunate turn in 2018 when near to the end of my 50th parkrun I collapsed having suffered a cardiac arrest but fortunately for me it was the weekend parkrun were celebrating 70 years of the NHS so I was saved by some quick thinking and expert assistance by some of the fully trained professionals (and some ordinary runners) that were in attendance that day.
The level of support I received from my friends and fellow club members in the weeks and months following my incident was something I will never forget.
I had to accept that the old runner had gone and I wasn't ever going to get back to my old times and PBs. My heart rate was now going to determine how my running was going to go in the future and I am always thankful to club members when they accompany me on my runs either at club or outside of the club environment.
This is what makes my running family in MKLR such an awesome bunch of people.
I was helped immensely when I first started on my running journey by the run leaders at the time and when I was asked if I wanted to become a leader too I jumped at the chance to be able to hopefully help others the way I had been helped before.
Being a run leader is fun and if you fancy becoming a leader yourself to help the club and your fellow members then I highly recommend it. Speak to any one of us and we'll answer any questions you may have.
Over the years I have helped a good few club members achieve some of their running goals by acting as their pacer in races of varying lengths (mainly half marathon) and outside of the club until last year I was regularly one of the official pacers in the MK Winter Half Marathon helping plenty of other people achieve their targets too.
Run Leader, Laurie Lou
Fresh from Greensands its Laurie Lou !
Hi I'm Laurie and I've been a member since 2012 when both my children went off to uni and suddenly I had a bit more time on my hands. I had already done a c25k a few years previously with staff at the school I work in, lead by a PE teacher and kept my running going by myself for a few years trotting along the canal – but I didn't really consider myself a "proper" runner – so it took my brother a while to convince me to join the club, as I didn't think I was good enough.
Silly looking back now – as one of the things I love about our club is how inclusive we are. Nobody gets left behind, people are happy to do run backs – I even get to do run backs myself occasionally and celebrate when I do! And everyone is made to feel welcome when they join our club, with people who run marathons celebrating the achievement of someone doing their first 5k.
I have made so many friends since joining the club and achieved way more than I ever thought possible – running 10Ks, half marathons, marathons and even ultra marathons (that was doing Thunder Run solo with Val who is just one of the many inspirational runners I've had the pleasure to run with).
The best thing about being a run leader is helping others to realise their own potential (again I didn't think I was a good enough runner when I was asked to become a Run Leader – a bit of a theme going on here! ) – so whilst helping others to find their confidence in their abilities – I am also building my confidence each time I lead a successful session.
I'm also the club Welfare Officer – so anyone with any worries about anything at all can come to me. Either speak to me in person or you can message me.
I do love to run and chat – as you don't notice the miles passing you by. I find running with friends boosts both your mental and physical fitness. So as our club motto goes – I "Run for Fun and Fitness"!